Adrian Hope is a award winning Silversmith working in the Scottish Borders. His work is represented in 10 British museum and public collections.
Britannia Silver Bowl
Britannia Silver Bowl 15cm dia Gild interior
Gold and Silver Cups
Stone-textured Banded Cups 22ct Gold and Britannia Silver 7cm tall.
Silver Teapot and Milk Jug
Silver Teapot and Milk Jug Holly Ag925 2010
Nesting set 21 Bowls
Nesting set 21 Bowls. The largest about 150mm dia
Ocean Reliquary (Open)
Ocean reliquary. Ag 925, Gold leaf
Ocean reliquary
Ocean reliquary. Ag 925, Gold leaf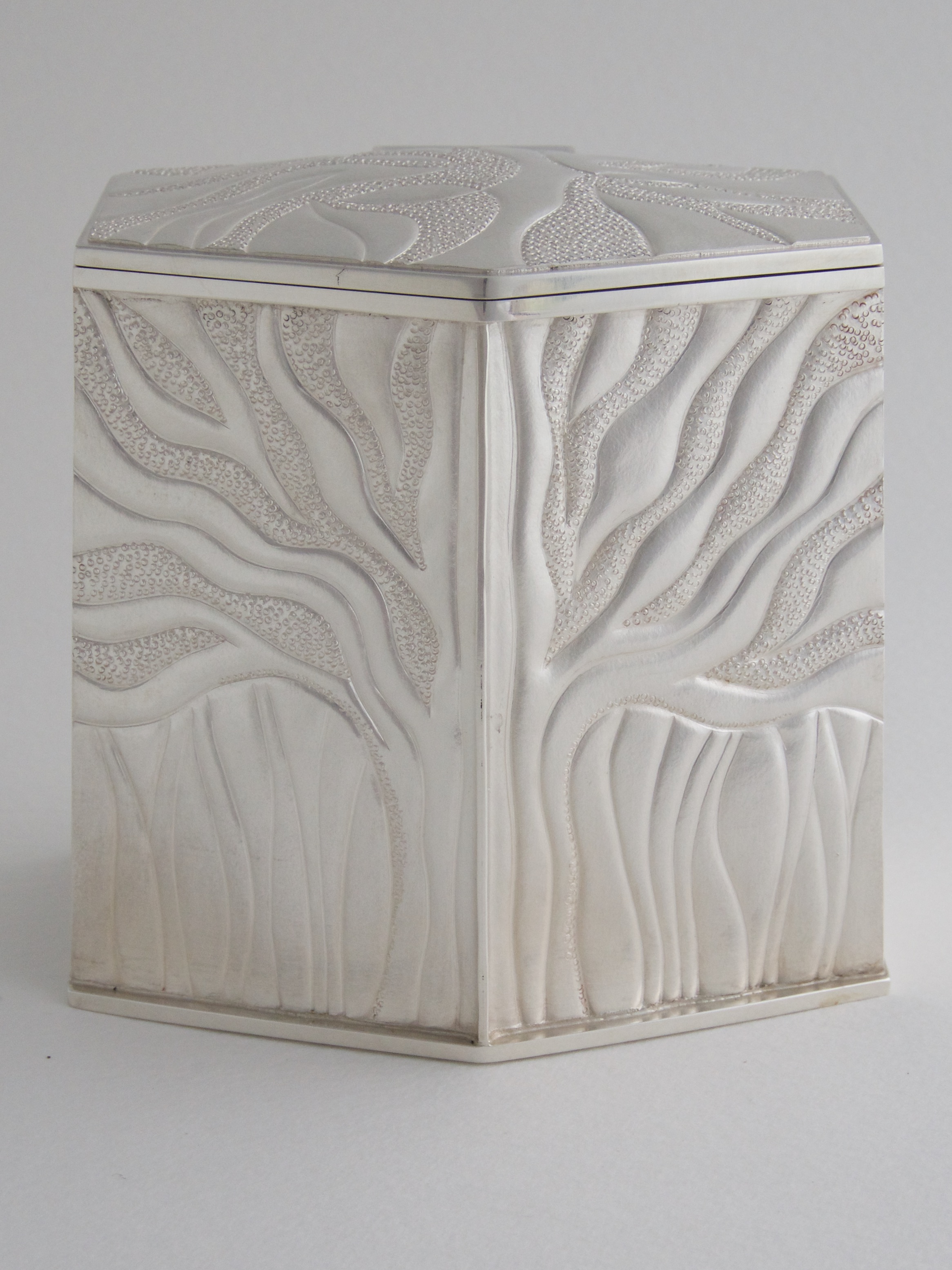 Silver Teapot.
Silver Teapot 2002 Holly Ag925. Note; Early teapots with 2 rivets securing the handle.
Reliquary for a Traveller
Silver Box and 18ct Gold boat patinated interior. explained and demonstrated in Creation film
Two Snowcord Vases
Two Snowcord Vases Hand-raised. Larger vessel Approx 20 cm Tall
Adrian Hope's workshop is in the upper reaches of the Tweed valley. Although the geography appears immutable the signs of mans influence are all around. Field patterns that date back over many thousands of years are overlaid with more recent interventions. 18th and 19th century boundaries and 20th century wheels wear down a 15th century drove road. The remains of medieval dwellings now lie in the shadows of 19th architecture and 20th century forestry.
Adrian Hope's work builds on a tradition that is as old, that is as overlaid with ambitions and motives, designs, and technologies as all his predecessors and professional kinsmen in his field of Goldsmithing.